The Courts Will Not Rule On Religious Questions, So Be Clear About Your Wishes In Your Estate Plan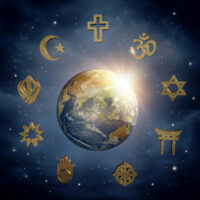 Perhaps a relative of yours was buried in his military uniform, or at another relative's funeral, everyone sang the decedent's favorite hymn.  It is possible that the surviving family members just knew what the decedent would have wanted at their funeral, but more likely, they let their relatives know, either verbally or in writing.  Even though there will be little you can do about it after the fact if your funeral does not go the way you would have wanted it to, your surviving relatives will be stuck with the pain and bitterness for years.  If you are religious, then talking to a clergy member such as a priest, pastor, or rabbi about your estate plan and your wishes for your funeral is a good idea.  You have probably participated in the funeral customs of your faith tradition, but the clergy will probably have additional information you didn't know about the customs and the reasons behind them.  The court can help you resolve almost any dispute about a deceased family member's estate, but they will not take a position on religious questions.  Even after a clergy member has given you thorough information about funeral practices and disposition of remains, an Orlando estate planning lawyer can help you formalize your estate planning documents so that they are legally enforceable.
Widow Sues Cemetery Over Husband's Burial in Interfaith Burial Ground
Orna and her husband practiced the Jewish faith and wished to be buried according to "Jewish burial customs and traditions."  Shortly before her husband died of cancer, his doctors told her that it was time to plan for his burial.  She visited the website of Dignity Memorial network, which owns several cemeteries, including Menorah Gardens in Florida.  The website made reference to Jewish customs and claimed to offer burial in accordance with the requirements of Orthodox, Conservative, and Reform Judaism.  Orna visited Menorah Gardens before her husband died and met with a representative there.  She said that she wanted her husband to be buried according to "Jewish burial customs and traditions," and the representative confirmed that they would do this.  Orna noted that the cemetery had several sections but only one entrance, with a Star of David above it, and that other Jewish religious symbols were visible throughout the cemetery.  She bought a burial plot for her husband.
After her husband's death and burial, Orna visited his grave, and she noticed that a Christian pastor was buried several yards away, in the same section.  Orna sued Menorah Gardens, claiming that this was not a proper Jewish burial.  She argued that, for a proper Jewish burial, a Jewish person's body must be buried in a section where only other Jewish people are buried.  It must be separated from other sections by a wall, fence, or hedge, and it must have a separate entrance.  The defendant cited rabbinic opinions on instances when it is acceptable to bury Jewish and non-Jewish people in the same section of a cemetery, such as in the case of interfaith families being buried together, or mass disasters.  The court refused to issue an opinion on whether Menorah Gardens provided a proper Jewish burial, as this would violate the First Amendment to the Constitution, which prohibits the government, including the courts, from interfering with religious communities and their leaders on questions of religious law.
Contact Gierach and Gierach About the Sacred and the Secular in Your Estate Plan
An estate planning lawyer can help you communicate your faith-based decisions about your estate plan.  Contact Gierach and Gierach, P.A. in Orlando, Florida to discuss your case.
Source:
scholar.google.com/scholar_case?case=13111274322808743678&q=divorce+church&hl=en&as_sdt=4,10&as_ylo=2012&as_yhi=2022