Aging In Place Begins In Middle Age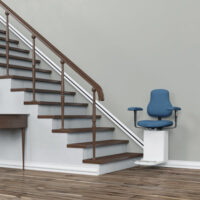 Time flies when you're procrastinating.  You may have just run a marathon at age 49, but that Red Hot Chili Peppers Jam that was blasting from the loudspeaker as you crossed the finish line was playing on the oldies station.  You are wise to live in the moment and enjoy your health and wealth, but enough people your age are suffering from long COVID, cancer, and autoimmune diseases that you should be thoroughly convinced that ill health can happen to anyone.  Your retirement years may seem like they are decades away, but a sudden reversal of fortune could put anyone into an early retirement.  Even in your youthful state, you might have decided that you will never live in an old folks' home, but how feasible are your plans for aging in place? You may have chosen your current home as a place to raise your kids, and even if they will not be old enough to leave the nest anytime soon, how suitable is that nest for forever?  If you are old enough to brag to your kids about the marathon you just completed and to gloat about how music was better in your day, you are the perfect age to get a reality check from an Orlando estate planning lawyer about the financial decisions you should make now if you plan to continue living in your current home when you are much older.
Family and Friends: Your Most Valuable Resource
For aging in place, the most important question is not about what you need but about who you need.  If you are married or if you have family members living nearby, aging in place is much more feasible.  When you are no longer able to drive, your children, nieces, and nephews can drive you to the supermarket.  If you are single and don't have family members living in the same city with you, your network of friends is even more important than it is for married folks; being socially connected to others improves your prospects for good physical and mental health in your old age.
People who age in place will eventually need help with some tasks, like grocery shopping, housework, and transportation.  If you don't feel comfortable asking your family and friends to help you, start budgeting and saving now to pay for the services you will need.
Is It Really Cheaper to Stay in Your Current House?
Aging in place is about more than just installing a bench in the shower and a panic button on the bathroom wall.  If you have retirement income and no work-related expenses, making those minor renovations to your house when you need them will be affordable.  The most important aspect of a senior-friendly house is being able to get to and from your bedroom and bathroom without climbing up or down a flight of stairs.  This means that you made a wise choice if you bought a classic Florida one-story single-family home instead of a two-story McMansion.
Contact Gierach and Gierach About Getting Over Your Fear of Estate Planning
An estate planning lawyer can help you make the best decisions now to prepare for aging in place in the future.  Contact Gierach and Gierach, P.A. in Orlando, Florida to discuss your case.
Source:
news.umich.edu/most-older-adults-want-to-age-in-place-but-many-havent-taken-steps-to-help-them-do-so/