Can Mobile Apps And The Employee Benefits Office Help With Your Estate Plan?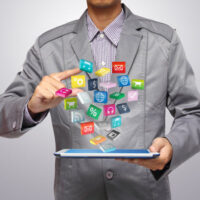 Most people procrastinate getting started on estate planning because they equate making an estate plan with thinking about their mortality, which is very scary, especially for young people.  Estate planning lawyers always say that estate planning is about planning to live a long life, but you don't find that out until you meet with one, which most people don't do until they are approaching retirement age.  What if estate planning could be something that happened automatically?  What if it were an employment benefit, like health insurance or retirement savings?  What if it were just a phone app?  These services are becoming more widely available, enabling more people to get started on their estate plans sooner.  Even if you are already using an estate planning app or if your employer provides estate planning services, an Orlando estate planning lawyer can help you work out the details of your estate plan.
Estate Planning as an Employer-Provided Benefit
Today, only about 13 percent of employers provide estate planning benefits, but many more of them should.  According to Yahoo Finance, seven out of ten working adults who do not receive estate planning services from their employers say that they would use this benefit if it were available to them.  Employer-provided health insurance benefits and retirement savings are as much a predictor of financial stability as income level is, and employer-provided estate planning could increase working adults' feelings of stability, as well as making the transition to retirement easier.
Mobile Apps for Estate Planning
There are mobile apps for almost everything, including banking, fitness, and co-parenting after divorce, so why not mobile apps for estate planning?  As of 2022, there is at least one such estate planning app.  Wealth is an estate planning app startup company based in Arizona and founded by Rafael Loureiro and Rei Carvalho.  The app enables users to document all of their assets in one place, including stocks, cryptocurrency, real estate investments, and collectible items, among others.  It also keeps digital copies of estate planning documents such as wills.  To begin using the wealth app, you choose your location, and the app automatically applies the laws of your state to guide you through the process of which documents to upload.  It also asks you for the contact information of people who you wish to enable to access your data in the event of your death or serious illness.  In this way, it is like the legacy contact feature of smartphones, except specifically for information related to your estate plan.  Apps like Wealth can make estate planning easier and less intimidating, but they are no substitute for an estate planning lawyer.
Contact Gierach and Gierach About Getting an Early Start on Your Estate Plan
An estate planning lawyer can help you make sense of the estate planning information you have provided to your employer or uploaded on an estate planning mobile app.  Contact Gierach and Gierach, P.A. in Orlando, Florida to discuss your case.
Source:
finance.yahoo.com/news/wealth-poised-estate-planning-accessible-120203289.html