Can You And Your Spouse Write A Joint Will?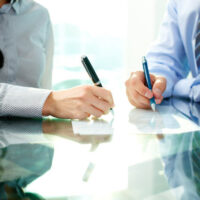 If you are in the mood for some negativity but do not want to end up doom scrolling through endless think pieces that offer terrifying predictions about the future, Google the name of a movie where a love relationship is the main theme or a major subplot.  You are sure to find an essay by someone who thought the couple's story arc was sweet when the story came out, and perhaps the writer even aspired to find a similar relationship, but when the writer watched the movie years later, the supposedly ideal relationship seemed unhealthy, controlling, or downright creepy.  Would the prince have fallen in love with the little mermaid if she had been able to speak to him the way she spoke to her aquatic friends?  That song at the end of Grease is a perennial karaoke favorite for any two singers who have reached the bottom of a six pack of beer, but was it really necessary for Sandy to change her appearance and behavior to win Danny's love?  Is it an expression of true love if you and your spouse promise not to rewrite your will after one of you dies, or is it an attempt at micromanagement from beyond the grave?  An Orlando estate planning lawyer can help you face the reality that, in almost every married couple, one of them will eventually be widowed, and can help you build your estate plan with this fact in mind.
What Is a Joint Will, and Why Doesn't Florida Allow Them?
A joint will is a will signed by two spouses.  It remains valid until both spouses have died, and it goes through probate twice.  Most joint wills stipulate that, when the first spouse dies, the surviving spouse inherits the entire estate, but when the second spouse dies, other relatives (usually the couple's children) inherit the couple's property.  Florida law does not allow joint wills.  It considers it unconscionable for you to control your spouse's decisions after you die.  Imagine that a young couple signs a joint will, and the husband dies several years later.  The wife eventually remarries and has another child, but because of the joint will she signed with her first husband, she cannot leave any property to her second husband or her youngest child.
Alternatives to a Joint Will
Couples who have been married for decades and whose children are grown up are usually on the same page about estate planning and inheritance.  At age 60, you can be sure that, if your spouse dies many years before you, this will not make you change your mind about the provisions of your will.  You and your spouse still have to write separate wills, but you can sign a mutual will agreement, where both of you make a legally binding promise not to change your will after one spouse dies.  If something major changes after your spouse dies (for example, your daughter becomes a widow and your grandchildren need much more financial support from you than you had expected), you can transfer property to your chosen beneficiaries outside of probate.  You can do this by setting up a trust for your grandchildren or any other beneficiaries not accounted for in your will.
Contact Gierach and Gierach About Estate Planning for Couples
An estate planning lawyer can help you and your spouse be faithful to your marriage and your family for the rest of your lives and beyond.  Contact Gierach and Gierach, P.A. in Orlando, Florida to discuss your case.
Sources:
dochub.com/fillable-form/123256-mutual-wills-package-with-last-wills-and-testaments-for-married-couple-with-minor-children-florida
leg.state.fl.us/Statutes/index.cfm?App_mode=Display_Statute&URL=0700-0799/0732/Sections/0732.701.html