Demand For Granny Flats In Central Florida Exceeds Supply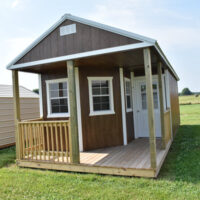 Aging in place, where you continue to live in the house or apartment where you live now for as long as your health allows, is the preferred option if you have family members living nearby.  Given the choice between aging in place and moving to an assisted living facility, 90 percent of seniors choose aging in place.  If you do not already live in the same household with your adult children, then moving in with them can be a source of conflict.  If you are used to your independence, your children are probably used to theirs, too.  Accessory dwelling units (ADUs), which are a separate tiny house on the same plot of land as a single-family home, are an attractive option for families that choose aging in place but who value their autonomy.  ADUs are not cheap, though, and the ones that are currently on the market in Central Florida are disappearing quickly.  If your plans for retirement involve living in an ADU on the property of one of your family members, your best hope is to start making financial plans for this move many years in advance. The best way to start is to consult an Orlando estate planning lawyer.
How Expensive Are Accessory Dwelling Units?
An ADU, also known as a granny flat when its intended purpose is to be a nearby residence for an elderly relative, as opposed to a home music studio, for example, is essentially a tiny house.  It has a bedroom, kitchen, and bathroom, and even if it adjoins a single-family home, it has its own entrance.  Building an ADU costs about $200,000.  That is an attainable goal if you have been planning to spend money on housing in retirement, but it assumes that you already own a house with enough land that there is room to build an ADU.  Buying a property that already contains a single-family home and an ADU in Central Florida costs about $500,000.
The Road to Your Dream Granny Flat Is Paved With Plans
If your vision of happiness involves building a granny flat in the backyard of the house where your son, daughter-in-law, and grandchildren live, the first step is making sure that you and your family members are on the same page.  You certainly can't just show up at your son's house with contractors and start building.  How much financial support will you give your relatives if you build an ADU on their property?  Will they split the building costs with you?  How will this affect your relationship with your other children? There are plenty of financial and non-financial considerations involved, so to reach the granny flat of your dreams, you must have some serious conversations with your family and your estate planning lawyer.
Contact an Attorney for Help
An Orlando estate planning lawyer can help you form and implement realistic plans for aging in place, whether in a granny flat or some other structure.  Contact Gierach and Gierach, P.A. for help today.
Source:
tampabay.com/life-culture/2021/11/12/granny-flats-are-rising-in-popularity-amid-the-pandemic-study-says/