Disinheriting Your Children: Do's And Don'ts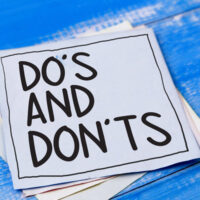 Another holiday season has come and gone, and your children and grandchildren are getting more ungrateful by the year.  They complain about the gifts you give, and when they visit you, they complain about the food and about the condition of your house, and they never offer to help.  You do your best to treat their partners and their partners' families with welcome, but they have treated your spouse and stepchildren like dirt for as long as you can remember.  Now that it is time to review your estate plan at the end of another year, you are seriously considering writing one or more of your children out of your will.  Is this really possible, and if so, how do you do it, and are you sure you really want to?  An Orlando estate planning lawyer can help you make wise decisions about including and excluding family members from your will.
Don't Act in Anger
Your will is your own decision.  You have the right to leave property to any person or organization you choose, and you are not legally obligated to leave property to your children or any other family members.  Since your will is a legally binding document, you should only disinherit one of your children if you are sure that you do not want your child or his or her descendants to inherit any property from your estate.  Some people disinherit relatives from their wills because they have been estranged for years, while others simply choose to transfer assets to their relatives while they are alive instead of making them wait until the estate settles.  You might leave your children unequal amounts of money to balance out the unequal financial support you gave them in your lifetime.  Whatever you decide, your will should be based on financial decisions, not emotional ones.
Spell Everything Out Clearly in Your Will
Whatever you decide, your will should state it clearly.  Ambiguities in your will can easily lead to bitter disputes during probate.  If you have previously written a will, clearly indicate that the new version of the will supersedes and cancels out all previous versions.
Can Your Children Still Get Money From Your Estate If You Disinherit Them?
If your will states that your children may not inherit from your estate, that decision is legally binding; only surviving spouses have the right to claim an elective share from the estate after they have been disinherited.  If a disinherited child believes that he or she is entitled to a share of your estate or that you did not really want to disinherit your child, the disinherited child has the right to challenge your will in probate court.  The probate court assumes that wills submitted to it are valid, and the burden of proof that the will is invalid rests on the person who raises the challenge.
Contact Gierach and Gierach About Estate Plans That Do Not Include Your Close Family Members
An estate planning lawyer can help you think clearly about whether you really want to disinherit the family members who drained your finances and tried your patience this year.  Contact Gierach and Gierach, P.A. in Orlando, Florida to discuss your case.
Source:
casetext.com/case/baum-v-becker-poliakoff-pa