Divorce Is The Most Reliable Way To Disinherit Your Spouse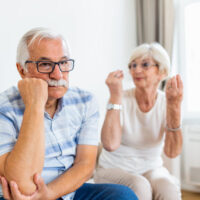 Over the course of a 67-year marriage, you are bound to see your spouse's flaws as well as their virtues.  By the time you are old enough to think about leaving your wealth to your children and grandchildren in your will, you have probably accepted that your spouse's financial habits, even the ones that drive you crazy, probably are not going to change, not even after you are gone.  Careful estate planning can help you ensure that all the family members you wish to receive an inheritance from you will receive it, and that your spouse's impulsive decisions, tight-fistedness, or excessive spending will not get in the way of your plans, but it isn't a perfect solution.  Unless you and your spouse signed a prenuptial agreement stipulating the contrary, your spouse has the right to claim an elective share of your estate during probate.  The elective share for couples without children is one half, and for couples with children, it is one third.  One of Florida's wealthiest women did not want to take that chance, though; fearing that her husband would spend the family's wealth on his affair partner instead of letting the couple's children inherit it, she divorced her husband of 67 years.  If you and your spouse disagree about money, but have decades of history together, you should consult an Orlando estate planning lawyer before you set your sights on filing for divorce.
Lucille "Lovey" Handelsman, Formerly Half of Florida's Real Estate Power Couple (1928-2021)
When Burt and Lucille "Lovey" Handelsman married in 1948, they were in their early 20s and lived in a small apartment in New York state.  By 2016, they had raised two daughters and a son and had acquired an empire of commercial real estate throughout southern Florida.  In November 2021, Mrs. Handelsman died in her small apartment, except that this apartment overlooked luxury jewelry shops on Worth Avenue in Palm Beach, and by now, Lovey was single.
Lovey filed for divorce from Burt Handelsman in 2016, and her reasons for choosing to divorce after 67 years had everything to do with her estate plan.  She was concerned that Burt was getting too friendly with Jane Rankin, a family friend who had worked as an attorney for the couple.  She worried that, if she didn't divorce Burt, he would spend the family's assets on Rankin and that her children would not receive their inheritance.  In the divorce case, Burt alleged that the children had turned their mother against him, but Lovey's mind was made up.  The court dissolved their marriage, making Lovey Handelsman one of the wealthiest real estate owners in Florida.
Contact Us Today for Help
An Orlando estate planning lawyer can help you protect your estate from the worrisome financial habits of your spouse or any other member of your family, preferably without severing family ties.  Contact Gierach and Gierach, P.A. for a consultation on your case.
Source:
yahoo.com/news/lucille-lovey-handelsman-whom-divorce-132330493.html