Do Risky Investments Have Any Place In Your Retirement Plan?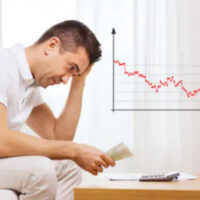 Money is only one of the things you need to think about when you plan for retirement.  Estate planning lawyers may break the ice by asking you what you would like to spend money on in your old age and what your idea of a comfortable retirement looks like.  Beyond those first few conversations, however, you start talking about much weightier subjects, such as healthcare decisions, nursing homes, final disposition of remains, creditor claims during probate, and challenges to the validity of a decedent's will.  Estate planning lawyers are not financial planners; every financial decision you make with an estate planning lawyer comes with the acute awareness that you can't take your money with you when you go.  Unless you have a cushy retirement pension, however, or unless you are so frugal that your Social Security check can cover all of your expenses, estate planning involves planning for a time in your life when you will have to cover most of your expenses with investment income.  An Orlando estate planning lawyer can help you decide whether your current investment strategy will serve you in retirement and how to modify it if it will not.
Safe the Riskiest Investments for Last
Diversifying your investments is always a sound strategy, but your safest investments should always be the investments you will want to access as a source of income first.  You should plan to derive the income you will need in the next three years in low-risk accounts, so that there is little risk of it not being there when you need it.  The medium-risk accounts should be for money you plan to access three to seven years from now, and the riskiest ones should be for money that you will not need for at least seven years.  This way, if your risky investments tank, you can move the money to lower risk accounts, where it can increase its value by the time you need it.
Estate Planning for the Risk-Averse
At least some of your retirement income should come from guaranteed sources.  If you are especially risk-averse, you might even put the majority of your money into accounts with a guaranteed payout.  Annuities and hybrid life insurance policies will not make anyone rich, but they will protect you from unexpected financial catastrophe.  If you own your house and it is not encumbered by a mortgage, and if you have family members living nearby or even with you in the same household, these risk-free investments could be all you need.  Furthermore, everyone needs long-term care insurance, even people who are the picture of health when they retire and who have robust savings in the bank.
Contact Gierach and Gierach About Debt Collection in the Short Term and Long Term
An estate planning lawyer can help you and the eventual personal representative of your estate avoid nuisance debt collection notices and creditor harassment.  Contact Gierach and Gierach, P.A. in Orlando, Florida to discuss your case.
Source:
kiplinger.com/retirement/retirement-planning-whats-your-retirement-personality