Elderly Couple Loses Savings In Venmo Scam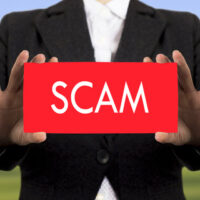 Alan and Aviva Sturm must have done something right as far as their estate plan.  Until recently, they lived in a two-bedroom apartment in an assisted living facility in Boynton Beach.  Although they both have heart conditions and Alan has epilepsy, their health is stable, since they could afford healthcare and medications through Medicare and secondary medical insurance coverage.  Earlier this year, though, Mr. and Mrs. Sturm came close to losing everything when hackers emptied out their bank account.  If there is a lesson to be learned from this story, it is that part of estate planning means protecting yourself from identity theft.  This is easier said than done, though, because prospective identity thieves tend to keep up with changes in personal finance technology much more quickly than even the most cautious seniors do.  An Orlando estate planning lawyer can help you protect your retirement assets from identity thieves.
Venmo Reimburses Victims After Hackers Drain Their Bank Account
Somehow, hackers gained access to Alan Sturm's bank account information during or slightly before the first week of March 2021.  They fraudulently set up a Venmo account in his name.  In early March, they made two small transactions, using Venmo to transfer amounts less than a dollar to accounts not controlled by Sturm and to which he does not have access.  He did not notice, and soon the hackers began transferring $1,500 out of his account each week.  In July, Sturm wrote a check to the assisted living facility for his rent, but the check bounced.  Sturm was incredulous, since as far as he knew, the account had a balance of more than $19,000.
Sturm, 74, called the bank, and the representative told him that the money had been transferred out of his account through Venmo.  It was the first time Sturm had heard of Venmo.  The representative told him that Venmo was like PayPal, but Sturm had not heard of PayPal, either.  Fearing that he and his wife would soon be out on the street, Sturm downsized his expenses as much as he could.  He cancelled his secondary medical insurance, and he and his wife moved to a less expensive, one-bedroom apartment in the assisted living facility.
In November 2021, Venmo reimbursed Sturm for the money that had been fraudulently withdrawn from his bank account.  The police are still investigating the situation and have not identified the hackers.  So far, they have found that a computer with its IP address in New York set up the Venmo account, but they do not know how the hackers got access to Sturm's information.
Contact Us for Help
The frightening experience that happened to Alan and Aviva Sturm can happen to any retired person.  Your age alone makes you vulnerable to becoming a victim of financial crime, but an estate planning lawyer can help you protect yourself from identity theft and financial abuse.  Contact Gierach and Gierach, P.A. in Orlando, Florida to discuss your case.
Sources:
infosecurity-magazine.com/news/venmo-to-reimburse-hacking-victims/
wpbf.com/article/amazons-2021-holiday-toy-book/38136669