Estate Planning For Newlyweds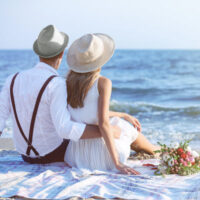 According to Yahoo Finance, only 52 percent of adults have a life insurance policy, and only 46 percent have a will.  This might be unsurprising, given that few of us have a net worth large enough to fight over in probate.  It is more surprising, however, when we consider that the COVID-19 pandemic has caused young and middle-aged adults to think about their mortality in ways that they never did before.  It is more surprising that, after a spate of outdoor weddings attended by vaccinated guests, lots of people are adjusting to a new marital status.  If your finances are complicated enough to include joint bank accounts, marital debt, and home ownership in the form of tenancy by entirety, then you need an estate plan.  An Orlando estate planning lawyer can help you get started.
The Big Four Estate Planning Documents
When you exchanged wedding vows, you promised to love each other in sickness and in health.  It is easier to do this when you have made financial plans about what to do if one of you has a long-term, severe health problem.  Likewise, some advice columnists are fond of saying to women with meddlesome mothers-in-law, "You don't have a mother-in-law problem, you have a husband problem," meaning that if the couple had discussed and formalized their plans, there would be no room for in-laws to meddle.  Personal finance celebrity Suze Orman has her own straight talk for couples; she says "you are nuts" if you think you don't need an estate plan.
At minimum, these are the documents you need:
Will – a document that details who will receive which pieces of your property after you die and who will be the personal representative of your estate until it settles.
Revocable trust – A document that can keep some or all of your assets out of probate, enabling the beneficiaries to receive them less expensively.
Financial power of attorney – giving a family member or lawyer the legal right to make some or all financial decisions and transactions on your behalf.
Durable power of attorney – a document listing our instructions for your care in the event that you become too ill to express these wishes directly to your doctors.
Of course, those are just the basics; everyone needs them, especially newly married people, regardless of your current age and financial situation and your medical history.  Likewise, if you have a life insurance policy with your parents as beneficiaries, you should update it to make your spouse a beneficiary, because if one of you predeceases your parents, an ugly court battle will only add to the unspeakable pain.  As your family and wealth grow, you can add to your estate plan, such as by executing a lady bird deed for your house or listing your descendants as beneficiaries of a living trust.
Contact Us for Help
An estate planning lawyer can help you prioritize estate planning tasks that are essential for newly married couples.  Contact Gierach and Gierach, P.A. for help today.
Source:
finance.yahoo.com/news/suze-orman-says-nuts-think-162500946.html