Financial Exploitation Of The Elderly Is A Crime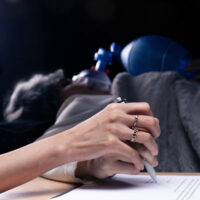 One of the goals of your estate plan should be to protect you from elder abuse.  Elderly people who are socially isolated and in poor health are vulnerable to abuse by professional caregivers, family members, and fraudsters who come into the senior's life pretending to have friendly intentions.  The abuse can be emotional, financial, physical, or sexual, but financial abuse is the kind of abuse that most commonly affects elderly adults.  Some victims of financial abuse live alone or with a family caregiver, while others reside in nursing homes.  Protecting seniors from financial exploitation is one of the main tasks of estate planning lawyers.  An Orlando estate planning lawyer can help you build a financial abuse-proof estate plan or protect a family member that you fear is vulnerable to financial abuse.
How Florida Statute 825.103 Protects Seniors
Fraud is a crime in every state and at the federal level, but Florida law contains a statute specifically criminalizing the financial exploitation of seniors.  Florida Statute 825.103 defines the crime of financial exploitation of elderly or disabled adults as when a person knowingly causes an elderly or medically vulnerable adult to incur financial losses for the financial benefit of the perpetrator.  This financial exploitation can take many different forms, but these are some of the most common scenarios:
A family member pressures or deceives the victim into spending money for the family member's benefit
A business partner of an elderly or medically vulnerable person takes advantage of the victim's trust to persuade him or her to transfer money or business interests to the perpetrator or embezzles money from the company
A fraudster pretends to befriend the victim and then repeatedly asks him or her for money or expensive gifts
An elderly person signs a power of attorney, and the agent named in the power of attorney makes transactions that benefit the agent to the detriment of the principal
Financial exploitation of the elderly is a felony.  Depending on the amount of financial losses, the maximum sentence can range from five to 30 years in prison.  The defendant may also face charges for other financial crimes, such as wire fraud, in connection with the financial abuse.
How to Recover From Financial Abuse
If you suffer financial losses because of a scam or financial abuse, several legal remedies are available to you.  For example, even if the scammer does not get criminal charges, you have the right to file a civil lawsuit against him or her.  Whether or not you sue the scammer, a lawyer can help you negotiate with creditors to get back the money that the scammer borrowed from them against your will.  Likewise, filing for bankruptcy protection can help you discharge debts that a financial abuser incurred in your name.
Contact Gierach and Gierach About Protecting Yourself From Financial Abuse
An estate planning lawyer can help you make wise decisions to protect yourself and your family from financial abuse.  Contact Gierach and Gierach, P.A. in Orlando, Florida to discuss your case.
Source:
leg.state.fl.us/Statutes/index.cfm?App_mode=Display_Statute&URL=0800-0899/0825/Sections/0825.103.html