Florida Fourth District Court Of Appeal Decides Mandatory Restricted Depositories in Probate Are Improper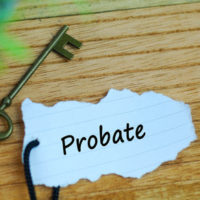 When it comes to probate, Florida law addresses placing financial assets into a restricted depository account in a financial institution in order to reduce the risk of improper use by the estate's personal representative. While some counties impose the restricted depository accounts in all cases, for all estates, others only do so if the size of the bond is burdensome or for other cause.
However, in a decision out of the Fourth District Court of Appeal released on January 10, the Court ruled against any localities requiring the mandatory use of restricted depositories, and instead decided that the language in the statute simply allows for a restricted depository when there is good cause, depending upon the particular estate facts involved. In other words, whether a restricted depository is mandated by court order should be determined in a case-by-case basis.
Why Would You Want A Restricted Depository?
One example of an instance where a restricted depository might be called for is when beneficiaries petition for an order designating a restricted depository for the assets because they are concerned that the personal representative might be abusing estate assets and/or if they are concerned about the case potentially being litigious.
Prior to the decision, trial courts upheld restricted depositories as automatic in all probate cases where a particular jurisdiction called for that using the rationale that these depositories can prevent assets from pouring out during probate administration and they can also reduce expenses by encouraging attorneys to resolve cases more quickly. However, some courts, while upholding a locality's requirement that they be used, would also be willing to reconsider the order if the use of the depository became problematic or somehow made a case more litigious.
Fourth District Finds Improper Interpretation of Statute
The Fourth District Court of Appeal disagreed that any locality be able to make their use mandatory; pointing out that the statute itself indicates that the court may order it due to the size of the bond or for other cause, and that the statute is clear and unambiguous that mandating a depository in all probate cases is improper. In fact, the statute makes the case that there are only two circumstances where a restricted depository may be ordered: when the bond is burdensome or "for other cause." This implies a determination on a case-by-case basis, not a one-size-fits-all rule.
Contact Our Florida Probate Attorneys to Find Out More
Whether you are planning your estate or dealing with estate administration issues, you want to work with an effective, trustworthy probate lawyer who can ensure that your loved ones' are taken care of and that the wishes of the estate are carried out. Contact our Orlando probate attorneys at Gierach and Gierach, P.A. today to find out about our services.
Resource:
edca.4dca.org/DCADocs/2018/2382/182382_1257_01092019_09450779_i.pdf
https://www.gierachlaw.com/senior-citizens-concerned-about-money-draining-probate-system/