Funding Your Revocable Trust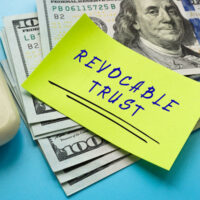 If you have established a revocable trust, you are probably feeling pretty chuffed with yourself.  After all, revocable trusts are one of the most effective ways of keeping your assets from having to go through probate.  You might not be rich, but at least you are not enough of a chump to let the probate court and your estranged spouse to help themselves to percentages of your entire estate.  Don't start resting on your laurels just yet, though.  Simply setting up a revocable trust is only the beginning, though.  Your revocable trust cannot help you until you make it the legal owner of the assets that you want to keep out of probate.  Funding a revocable trust can be a complex and time-consuming process, but an Orlando estate planning lawyer can help you accomplish it.
Transferring Real Estate to a Revocable Trust
Transferring ownership of a real estate property always requires a lot of paperwork; you probably remember this from the times when you have bought or sold a house.  Some of the documents become a matter of public record.  In the simplest cases, all you will have to do is draft and sign a quitclaim deed, but even that involves witnesses, a notary, and at least a brief description of your revocable trust and its property.  Things are even more complicated if you still owe money on a home mortgage loan or if your homeowners' association has rules about transferring properties to a revocable trust.
Revocable Trusts and Bank Accounts
For most purposes, money in a bank account is the most liquid asset imaginable, so you might think that it would be easy to move a bank account from your possession to the possession of a revocable trust.  Some banks will simply let you change the account holder from your name to the name of your revocable trust.  Others may make you close the bank account and open a new one in the trust's name and then deposit the money in the trust's account.
Transferring Personal Property to a Revocable Trust
In estate law, personal property refers to all assets other than real estate properties or money.  For most items of personal property, you can simply transfer it to the trust by signing a transfer of ownership document.  This applies to any item of personal property for which you did not have to register a title when you bought it or received it as a gift.  This includes items such as jewelry, furniture, artwork, and memorabilia.  Items of property that do have a title, such as cars, motorcycles, and boats, require you to transfer the title to the property at a title office.
Contact Gierach and Gierach About Funding Your Revocable Trust
Revocable trusts are a great way to save money on taxes and to make probate simpler.  An estate planning lawyer can help you keep your assets out of probate court by setting up a revocable trust and transferring property to it.  Contact Gierach and Gierach, P.A. in Orlando, Florida to discuss your case.
Source:
legalzoom.com/articles/11-steps-to-fund-your-living-trust