Guardianships Can Protect Your Elderly Family Members From Financial Abuse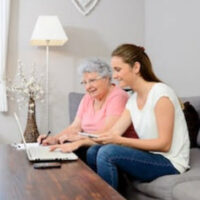 Forming friendships late in life can be a beautiful thing.  Perhaps you saw your own grandmother become more social after your grandfather died, attending church choir practice several times per week and meeting her friends at restaurants for lunch, having more fun than she had had since the days when your grandfather was still healthy.  Some people are able to channel their feelings of loneliness related to widowhood, empty nest syndrome, caregiving obligations, or scary health diagnoses into an impulse to form meaningful connections with other people.  Sometimes it is a red flag when an elderly family member forms a sudden attachment to a new friend or love interest, though; a sudden change in temperament can be an early sign of dementia.  Likewise, the new friend could be using your family member for money, and your family member might not notice or might be too embarrassed to tell anyone else in the family about it.  Adult guardianships can protect elderly adults from financial abuse from people who pretend to be their friends.  To find out more, contact an Orlando guardianship lawyer.
The Priest Who Tried to Sweet Talk a Widow Out of Her Fortune
Marion Knott McIntyre and her husband Richard did not have children.  They moved to Sanibel Island in 2010 after Richard retired, and their social life centered around St. Isabel Church, which they joined shortly after moving to Florida.  As Richard's health worsened, Marion depended on Fr. Christopher Senk, the pastor of the church, for emotional support.  Marion had inherited considerable wealth from her father, a noted Maryland philanthropist, and she had always been generous, but the lavish gifts she gave to Fr. Senk caused her family to worry.
Richard died in 2014, and when her relatives traveled to Florida for his funeral, Marion's brother Martin Knott and niece Lindsay Gallagher voiced their concerns.  They told Fr. Senk not to accept any more gifts from Marion.  He promised Marion's relatives that he would not accept any more gifts from her if she offered them.  Martin Knott also wrote to Bishop Frank Dewane about the situation; Fr. Senk's friendship with and alleged financial abuse of Marion Knott McIntyre was a main reason that the diocese suspended Fr. Senk from his job as pastor.
If Marion ended her financial support of Fr. Senk, she never noted this change in her will.  When she died in 2017, he was still the beneficiary of a large portion of her estate.  Marion's siblings and their children challenged the will during probate, citing undue influence.  The news sources and the probate court's decision do not discuss Marion's state of physical and mental health during her years in Florida, but adult guardianship is sometimes appropriate when an elderly person repeatedly makes irresponsible financial decisions that seem out of character or financially supports a person who seems to be taking advantage of them.
Contact Gierach and Gierach About Protecting Elderly Family Members From Financial Abuse
A guardianship lawyer can help you if your elderly relative is no longer healthy enough to manage their own finances.  Contact Gierach and Gierach, P.A. in Orlando, Florida to discuss your case.
Sources
parishionersforjustice.com/2017/06/01/the-case/
ncronline.org/news/people/pastor-lingers-limbo-after-disputed-2016-accusation-exploiting-heiress