Have You Properly Accounted for Digital Assets in Your Estate Plan?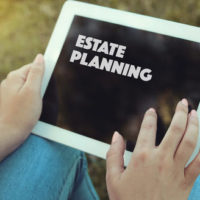 There is arguably enough to worry about when it comes to estate planning without also having to plan for a new type of asset, and one that can be present challenges to even the most tech-savvy of us.  Still, as part of your overall estate plan, you need to make sure that you have provided access to these accounts for your loved ones. The reality of our modern world is that we now rely on digital assets, and this means that your estate plan something is not complete without accounting for them. This is because virtual assets–such as your phone, computer and other devices–have become increasingly important and integral part of our lives.
Below, we discuss some of the basic steps we need to take in order to ensure that digital assets are properly planned for with your estate planning attorney:
First Steps
In order to get started working with your estate planning attorney to account for your digital assets, we suggest that you take these initial steps:
Make a basic inventory of all your digital assets (and be as all-inclusive as possible);
Make sure your usernames and passwords are all documented. Know that you can use password management tools to help you with this;
Discuss whether you can and should create a legal custodian for your online accounts and, if so, complete the forms to do so; and
Complete all of the various estate planning documents, such as power of attorney, trusts, and/or wills, to authorize designated individuals to service fiduciaries on your digital assets;
Note that some digital providers also have ways to allow authorized users to access your account, such as Google, which offers the "inactive account manager," as well as Facebook, which offers the "legacy contact." 
The Revised Uniform Fiduciary Access To Digital Assets Act
It is also important to realize that there is a new law which addresses designating fiduciaries to be able to legally access digital assets after death: The Revised Uniform Fiduciary Access to Digital Assets Act applies in most states (including Florida). The Act allows you to designate a fiduciary to have access to your digital assets after death. access the account and management. This is done through power of attorney, trust, or will–all traditional estate planning documents you are already likely engaged with.
Contact Our Florida Estate Planning Attorneys to Find Out More
The right estate planning starts with selecting and working with the right professionals, including a good estate planning attorney, and possibly a financial advisor as well, to develop a comprehensive plan that will match your wishes. Contact our experienced Orlando estate planning attorneys at the office of Gierach and Gierach, P.A. today to find out more about our services in this area.
Resource:
uniformlaws.org/committees/community-home?CommunityKey=f7237fc4-74c2-4728-81c6-b39a91ecdf22
kiplinger.com/article/retirement/T021-C032-S014-do-you-have-a-digital-guardian-for-your-estate.html
https://www.gierachlaw.com/can-i-choose-a-non-resident-executor-personal-representative-for-my-estate/