How Much Can You Get Paid As Personal Representative Of A Family Member's Estate?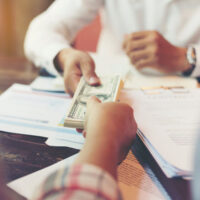 Acting as the personal representative of a family member's estate is work, and if you think that you deserve to be paid for putting in all the effort to make sure that all the beneficiaries listed in the decedent's estate get their money, Florida law agrees with you.  In Florida, the personal representative of an estate is entitled to payment in the amount of three percent of the value of the decedent's probate assets.  In practice, some personal representatives get paid more than that, especially if they have to put an unusually large amount of work into settling the estate, such as selling real estate and personal property to settle the estate's debts or dealing with complex situations such as disputes over the will.  Unfortunately, the law is less specific about how much more money it is reasonable for a personal representative to claim.  To make matters worse, old resentments and family feuds tend to influence people's views about how much or how little money the personal representative should get.  An Orlando estate administrator and executor lawyer can help you resolve disputes like these.
Sisters Disagree About Personal Representative's Compensation From Their Mother's Estate
Kathleen, a lawyer, was named as personal representative of her mother's estate in her mother's will; she was also the trustee of a trust set up while her mother was alive.  When her mother died, Kathleen authorized the assets of the trust to be used to satisfy the estate's debts, if necessary.  The main beneficiaries of the will and the trust were Kathleen and her sisters Amy and Nora.
The appeals court's decision does not say how much compensation Kathleen collected for performing her duties as personal representative of the estate; it does, however, say that Amy and Nora found the amount excessive and accused Kathleen of breaching her fiduciary duty.  They also asked the court to order Kathleen to refund some of the money she had taken from the estate as compensation.  The case was so complicated that the appeal's court's decision does not even say how much money Kathleen should have collected, since it is only ruling on a procedural matter related to the dispute.  It is clear from the text of the ruling, however, that the decedent owned substantial assets beyond those of the estate as it went through probate.  One can assume, then, that if Kathleen's compensation were limited to three percent of the probate assets, this would represent a very small fraction of the true value of the decedent's property.  The ruling also implies that the will did not indicate how much Kathleen should have been paid for her work as personal representative.
Contact Gierach and Gierach About Collecting Payment for Your Work as Personal Representative
A probate lawyer can help you fulfill your duties as personal representative of a deceased person's estate and collect fair payment for doing so.  Contact Gierach and Gierach, P.A. in Orlando, Florida to discuss your case.
Source:
scholar.google.com/scholar_case?case=6879113673126495317&q=mercedes+probate&hl=en&as_sdt=4,10&as_ylo=2012&as_yhi=202