How To Protect Your Future Self From Financial Abuse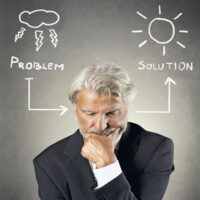 Last month, a court in Fort Pierce sentenced Sherri Lynn Smith, 52, to 51 months in federal prison followed by four years of supervised release after she pleaded guilty to bank fraud and aggravated identity theft.  Between 2016 and 2019, Smith worked as a caregiver to an elderly couple in Broward County, and they gave her access to their bank accounts so that she could manage the payment of their household bills.  Over the course of three years, she stole $280,000 from them, using the ill-gotten proceeds to buy a house in Tamarac and pay for her daughter's wedding reception, among other expenses.  The news media and the Department of Justice did not say how Smith got caught, but her case is an example of how vulnerable elderly people are to financial abuse.  According to the National Institutes of Health (NIH), financial exploitation is the most prevalent form of elder abuse, followed by neglect, emotional abuse, physical abuse, and sexual abuse.  Building an estate plan that provides for quality care in the event that you need long-term care can help protect you from financial exploitation by caregivers and other forms of elder abuse and neglect.  An Orlando estate planning lawyer can help you plan for a retirement that keeps you safe from elder abuse risk factors.
Risk Factors for Financial Abuse of the Elderly
Elder abuse and neglect, especially financial abuse, can happen in almost any setting.  The abuser can be a professional caregiver, a family member, or even a stranger who targets lonely seniors on the Internet.  According to the NIH report, the seniors who are most vulnerable to financial abuse are those who have dementia or physical disabilities, those who are socially isolated, and those who are dependent on the abuser financially or for help with the tasks of daily living.  The people who are at the greatest risk for financially abusing seniors are caregivers who lack social support and are under a lot of emotional and financial stress and those with a history of mental illness or drug or alcohol abuse.  The majority of victims of elder abuse are women, but this could be because more than half of Americans ages 65 and older are female.
In other words, the people who are most vulnerable to financial abuse are those who live alone, in understaffed nursing homes, or with family members who are poorly equipped to care for them or overwhelmed with the task of caregiving.  Money cannot buy happiness, but it can buy long-term care insurance.  You can protect yourself from financial abuse if you can afford the things that long-term care insurance pays for, such as residence in high-quality assisted living facilities.
Contact Gierach and Gierach About Estate Planning Decisions That Will Protect Your Financial and Emotional Wellbeing
An estate planning lawyer can help you think realistically about the best situation for you and your family in the event that you need long-term care and can help you prepare for it well in advance.  Contact Gierach and Gierach, P.A. in Orlando, Florida to discuss your case.
Sources:
ncbi.nlm.nih.gov/pmc/articles/PMC8110289/
tamaractalk.com/caretaker-who-embezzled-seniors-money-29201