How To Stop Your Adult Children From Sabotaging Your Retirement Plans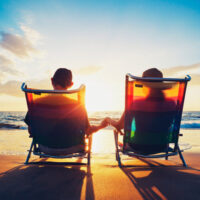 Little children are expensive and time-consuming, but they are also adorable.  As you pace around the living room at 2:00 in the morning, soothing a baby that woke up less than an hour after the last time you soothed him to sleep, you look forward to a time when your baby will be more independent.  Of course, when teenagers disagree with you about everything and retain only traces of their previous cuteness, you console yourself with the fact that they will soon be on their way to financial independence.  Many parents of adults are in for a rude awakening about the amount of money they will spend on their adult children.  If you have children, you should form your long-term plans with the expectation that you will still be contributing to their financial support in some capacity for years to come, whether you embrace the multigenerational household, where your kids and grandkids live with you in your paid off house but attend meticulously to your care, or whether you are bankrolling the lifestyle of those adult children who live beyond their means.  Once you have confronted this reality, an Orlando estate planning lawyer can help you make appropriate financial plans.
How Much Do Young Adults' Expenses Affect Their Parents' Retirement Plans?
Savings.com recently surveyed 1,000 adults who have at least one child who is at least 18 years old.  They found that many parents contribute substantially to the financial support of their adult sons and daughters, to the detriment of the parents' own retirement savings.  These are some highlights of the survey results:
When parents contribute money for adult children, the average amount the parents spend is $1,000 per month.
The main expenses to which the parents of young adults contribute are rent, health insurance, groceries, college tuition, and travel expenses.
80 percent of young adults who receive financial support from their parents are younger than 30.
62 percent of adults who live with their parents do not contribute to household bills. In other words, elderly adults who depend on their children financially are the exception rather than the rule.
Parents who are still in the workforce and contribute toward their adult children's expenses spend an average amount of 23 percent more on their children's expenses than they do on contributions to their own retirement savings.
How much money, if any, to spend on your adult children is a personal choice with many factors.  Do not base your estate planning decisions on wishful thinking that next year your child will get a six-figure job and become completely financially independent.  An estate planning lawyer will not tell you it is time to adopt a tough love approach with your children, but they will help you find the best ways to allocate the money you can afford to save.
Contact Gierach and Gierach About Estate Planning for Not-So-Empty Nesters
An estate planning lawyer can help you base your plans on a realistic assessment of your family's current financial situation.  Contact Gierach and Gierach, P.A. in Orlando, Florida to discuss your case.
Source:
msn.com/en-us/money/personalfinance/3-ways-young-people-are-ruining-their-parents-finances/ss-AAXcI1N#image=4