Lady Bird Deeds And Florida Estate Planning Law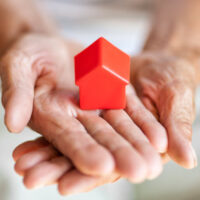 If you are financially secure enough to think about your estate plan but not so wealthy that you are part of the one percent, your home is probably the most valuable thing you own.  No one wants their family to have to go through an expensive and stressful probate process, so a big part of estate planning (after you make a budget that will enable you to enjoy your retirement years) is keeping as much as your property out of property by passing it to its beneficiaries through other channels.  When it comes to passing your house to one of your family members outside of probate, there is no simple solution and one that avoids all potential problems, but a lady bird deed might be the closest thing to the best of all possible worlds.  To find out more about executing a lady bird deed for your home, contact an Orlando estate planning lawyer.
How Lady Bird Deeds Work
Florida, Michigan, Texas, Vermont, and West Virginia are the only states whose estate planning laws allow for the transfer of real estate property through lady bird deeds.  The identifying features of a lady bird deed are enhanced life estate for you and transfer on death benefits for the beneficiary.  If you execute a lady bird deed with your son as the beneficiary, then you maintain complete control over the house for the rest of your life, but when you die, your son automatically becomes the owner of the house without probate.  Enhanced life estate means that, if you decide to sell the house while you are alive, you do not need your son's permission to do so.  If you sell the house, the new owner will have complete ownership; your son will no longer have a claim to the house after you are gone.
What Can Go Right With Lady Bird Deeds and What Can Go Wrong
If the idea of your kids having to pay a fortune during probate just to inherit the family home gives you the creeps, but so does the idea of executing a quitclaim deed and having your children circling your house like vultures while you are still alive, a lady bird deed might be just what you need.  When you execute a lady bird deed, the house still qualifies for the homestead exemption.
The potential downside to a lady bird deed is that it creates legal ambiguities if the beneficiary dies before the original owner.  For example, imagine that Alice executes a lady bird deed that will transfer her house to her sister Bea upon Alice's death.  If Bea dies before Alice and Alice doesn't execute a new lady bird deed with a new beneficiary, this could create a mess in probate.  Bea's children might have an uphill battle trying to convince the court that the house should belong to them.
Let Us Help You Today
An estate planning lawyer can help you find the best way to make your house into a non-probate asset.  Contact Gierach and Gierach, P.A. for help.