New Year's Resolution: Make A Budget To Remodel Your House For Aging In Place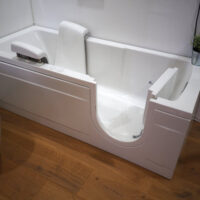 Being content with the things you have is a sign of wisdom.  If you are in your 60s and the house you bought when you were in your 30s still feels like a forever home to you, this means that you made the right decision all those years ago.  Deciding on accommodations in which to spend your golden years should be a practical choice from a logistical standpoint as well as a financial one.  There is no need to move out of your house just to move into a trendy tiny house or upscale condo.  No one is requiring you to abandon the house that has felt like home for decades.  If you have decided to stay in your forever home, you need to make plans for aging in place.  You can make the necessary changes to your house as gradually as your health permits, but you should start off the year by making a remodeling budget.  An Orlando estate planning lawyer can help you strategize about aging in place.
The Remodeling Considerations That Floridians Do Not Have to Worry About
In a post on the Next Avenue website, Andrea King Collier describes how she and her husband Darnay plan to remodel their house for aging in place.  The house was built in 1929, and the Colliers moved in in the late 1980s.  Two of the things they plan to change are the furnace and the stairs that connect the main floor to the upstairs and the basement.  They also plan to hire people to remove ice and snow from the driveway and walkways in the winter.  This is because they live in Michigan; we Floridians do not have to worry about most of these considerations.  Here in sunny Florida, one-story houses are the norm, and snow removal is hardly a booming industry.
Several of Collier's suggestions for aging in place renovations resonate in Florida, though, such as the following:
Replacing low toilets with ones you can sit on without aggravating your knee pain
Installing handrails in the bathroom
Widening doorways to accommodate walkers and mobility scooters
Decluttering so there are fewer fall hazards
Replacing slippery bathroom floors with linoleum or other slip-proof materials
Removing rugs and runners, as these are a trip hazard
Replacing bathtubs with walk-in showers with sitting benches
Adding more lighting in every room
How quickly you make these renovations and how soon you need them depends on your health and your budget.  It is not too soon to build home renovations into your financial plans, though, so that you do not have to do your aging in place renovations on an emergency basis or scramble to be able to afford it.
Reach Out to Us Today for Help
An estate planning lawyer can help you implement your plans to stay right here in Florida in your forever home.  Contact Gierach and Gierach, P.A. in Orlando, Florida to discuss your case.
Source:
nextavenue.org/getting-financial-act-together-aging-in-place/