Newlyweds Cannot Afford Not To Have The Estate Plan Talk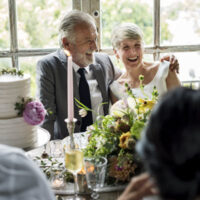 Getting married is different when you are on the far side of middle age.  You have a more realistic vision of what happily ever after will look like, and there is no pressure to keep up with the Joneses with a show stopping wedding.  Perhaps the biggest difference is that, once you have passed a certain age, the goal of your heroic quest is not to keep the peace with your spouse's parents, but rather to keep the peace with your spouse's children.  This is even more challenging, especially if you have your own children from a previous marriage.  If you think childhood stepsibling rivalry is ugly, wait until you see the enmity that can arise among step siblings who did not meet until they already had children of their own.  Your most powerful piece of heroic gear (it is not exactly a weapon) in this heroic quest is, of all things, your estate plan.  An Orlando estate planning lawyer can help you revise your estate plan to make it conducive to wedded bliss in a blended family.
If You Think Nagging Your Husband About His Estate Plan Makes You a Wicked Stepmother, Try Claiming an Elective Share of His Estate
Not updating your will when you get divorced is a mistake, but not updating it when you get married is an even bigger mistake.  Often, the parents of young children write what estate planning lawyers call an "I love you will," in which you leave your entire estate to your spouse if you predecease her and your entire estate to your children if your spouse predeceases you.  This is fine if both spouses live a long time and don't get divorced.
Imagine that you are engaged to marry a widower who has adult children from his first marriage.  You don't want to ask too many questions about his estate plan, because you don't want to sound like a gold digger and because trusting your spouse is a building block of a successful marriage.  If your spouse wrote an "I love you will" during his first marriage and never updated his estate plan, this could be a problem.  Surviving spouses have a right to claim an elective share of the deceased spouse's estate, even if the deceased spouse did not leave them any property in the will.  The last thing you want is to get into a legal battle with your stepchildren during probate.
A better solution is for engaged or newly married couples to revise their wills.  Some couples choose to sign prenuptial or postnuptial agreements in which they waive the right to an elective share; in this case, the will usually indicates certain assets for the surviving spouse and certain other assets for the children from the previous marriage.
Contact Gierach and Gierach About Planning for a Harmonious Relationship With Your New Blended Family
An estate planning lawyer can help you build an appropriate estate plan if you are getting remarried late in life.  Contact Gierach and Gierach, P.A. in Orlando, Florida to discuss your case.
Source:
leg.state.fl.us/Statutes/index.cfm?App_mode=Display_Statute&URL=0700-0799/0732/Sections/0732.201.html