Old Year's Resolution: Update Your Estate Plan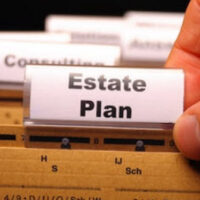 Not quite an Advent calendar and not quite a bucket list, your end-of-year to-do list can be a source of fun or anxiety, depending on your attitude and on your items on that list.  If the things you planned to do failed to materialize for reasons beyond your control, it can be demoralizing to revisit the goals you set in January; it's already December, and if you planned to visit ten countries you had never visited (starting four weeks after your second vaccine dose), or to get an X percent return on money you invested in January, there is little you can do to accomplish those goals by year's end.  Working on goals like "practice making a buche de Noel" can put you in a good frame of mind for the holidays and for a new year of setting goals.  Even though it is not exactly fun, revisiting your estate plan is a goal you cannot afford to procrastinate.  Whether or not you plan to discuss your estate plan with your family this holiday season, you should certainly discuss it with your Orlando estate planning lawyer.
The Most Important Estate Planning Decisions Are About People, Not About Money
While getting started on estate planning is a big job, simply making sure that the estate planning decisions you have previously expressed are still practical and still accord with your values.  Ask yourself these questions:
Who should be the personal representative of your estate?
Who should become your children's legal guardians if you die before you reach adulthood?
Who should have the right to make decisions about your finances and healthcare if you become too ill to make these decisions for yourself?
What Can Go Wrong If You Do Not Update Your Estate Plan?
Imagine that Kevin wrote his will when he was 30 years old and single, and he never updated it.  He listed his father as the personal representative of his estate and gave his mother the authority to make health decisions on his behalf.  In his will, he bequeathed his assets to his parents and his sister.  Now Kevin is 60 years old and married with grown children.  His father is deceased, and his mother is in a nursing home.  If he dies tomorrow, the only way his wife will inherit any money from him is by claiming her elective share, which is one third of the estate.  His children will not inherit anything from him unless they inherit it indirectly through their mother (assuming that she claims an elective share), grandmother, or aunt.  In other words, so many things can go wrong if you let decades go by without updating your will.
Reach Out to an Attorney for Help
An estate planning lawyer can help you update your estate plan, which will make those uncomfortable holiday season conversations with your family about your estate plan a little less uncomfortable.  Contact Gierach and Gierach, P.A. for a consultation.
Source:
cnbc.com/2021/12/07/its-essential-to-review-your-will-or-estate-plan-every-few-years.html