Protecting Your Elderly Family Members From Romance Scams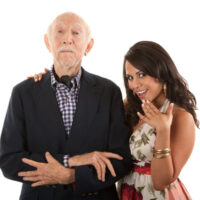 Finding a friend or a romantic partner late in life can be a beautiful thing, especially when you consider how detrimental loneliness is to the physical and mental health of seniors.  Unfortunately, scammers realize that there are plenty of lonely seniors out there and are willing to give them the illusion of friendship or love in exchange for as much money as the lonely senior is willing and able to pay.  Earlier this year, a woman from Champions Gate, Florida pleaded guilty to wire fraud after an elderly man sent her 62 checks, for a total of more than $2 million, over a four-year period.  She met the victim on a dating site in 2017 and told him that she needed money to pay an unpaid balance to her personal injury lawyer before the law firm would release the settlement money that a defendant had agreed to pay her.  He sent her $25,000, but the excuses and the requests for money kept coming, until the man was forced to sell his condo in New York and move in with his son.  An Orlando estate planning lawyer can help you protect your family from nightmarish situations like this.
Keep the Lines of Communication Open About Your Elderly Family Member's Social Life
Financial abuse of elderly people, whether it is through romance scams, professional caregivers, or even one family member who has isolated the vulnerable senior from the rest of the family, thrives in silence.  If the abuser lives with the victim, he or she may try to prevent you from speaking to the victim directly or confidentially.  If the victim lives alone, he or she might be unwilling to talk to you about it, and you might dread a confrontation.
The best way to avoid this problem is to talk openly with your family member about his or her social life and finances starting now.  This might mean opening up more about your social life and finances than you were planning to do.  Showing some of your own vulnerability, even if you are not used to being on such friendly terms with your parent, aunt, or uncle, can enable you to stop financial abuse before it starts.  Remember, if your elderly family member has you, then he or she is less likely to feel that he or she has no one.  If you don't live nearby, a few phone calls per week can make a big difference.
Speak Up If There Is a Sudden Change in Your Family Member's Financial Habits
If you make social life and friends a common topic of conversation, your family member is more likely to tell you about a new friend he or she met.  If you are suspicious, keep listening.  Try to meet the friend if possible.  If more red flags keep going up, it is time to talk to a lawyer.
Contact Gierach and Gierach About Protecting Seniors From Financial Abuse
An estate planning lawyer can help you take appropriate action if you suspect that an elderly family member of yours is suffering financial abuse.  Contact Gierach and Gierach, P.A. in Orlando, Florida to discuss your case.
Sources:
justice.gov/usao-sdny/pr/florida-woman-pleads-guilty-defrauding-holocaust-survivor-28-million-connection-romance
lawandcrime.com/crime/woman-admits-to-cheating-87-year-old-holocaust-survivor-out-of-2-8-million-life-savings-to-fund-her-life-of-luxury-in-sick-and-sad-romance-scam-feds/