Retirement For Debtors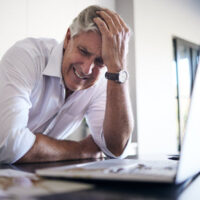 If you take a personal finance class in high school, your teacher will probably tell you that paying for purchases in cash should be your default option; you should only borrow money in order to build your credit, a credit card to qualify you for a car loan, and a car loan to qualify you for a home mortgage.  In a perfect world, you would pay off your mortgage by your 60th birthday and spend your last few years in the workforce beefing up your savings.  Of course, we do not live in a perfect world.  The world we live in is full of student loans and sky-high medical bills, and new debts keep piling up as fast as you can pay down the old ones.  At this rate, reaching all your financial goals is a near impossibility.  Most people retire because they are no longer young enough and healthy enough to work, not because they have no need for any more employment income.  Debts can and do follow seniors past their exit from the workforce.  If you need to plan for retirement and debt is part of your reality, contact an Orlando estate planning lawyer.
Reasons Why Seniors Are in Debt
The advice about how, to get out of debt, you just need to make small changes to reduce your expenses and increase your income is insultingly simplistic, because most people who receive this advice are already doing those things.  The generation that is about to retire has lived through decades of rising prices and stagnant wages.  Many of them have done everything possible to protect the younger generation from financial catastrophe, even at the expense of their own retirement savings.  The older generation is many families' only option for accessing credit; the over 50 crowd is more likely to own a house or a car to pledge as collateral for a loan.  Parent PLUS loans for young students and student loans for degrees pursued later in life are another source of seniors' debt burdens.
Debt Relief Options for Retirees
Retirees have the right to file for bankruptcy, but it may not offer the same relief as it does for working adults.  Creditors cannot seize your Social Security and retirement income, so you don't need to file for bankruptcy to protect those.  Older adults tend to have more home equity than younger ones, and your valuable home equity can put you in a risky position in a bankruptcy case.  Instead, it is better to settle directly with creditors when possible or simply tell them to get lost because you have already paid what you can pay and they can't get to your retirement income.  When you are planning for retirement, debt repayment strategy should be a factor in your plans.
Contact Gierach and Gierach About Coping With Debt in Retirement
An estate planning lawyer can help you build a realistic plan for your golden years even if you are in debt.  Contact Gierach and Gierach, P.A. in Orlando, Florida to discuss your case.
Source:
debt.org/bankruptcy/filing-as-a-senior-citizen/