Should I Establish a Premarital Agreement Before My Florida Marriage?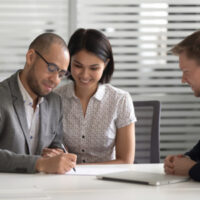 There are a variety of reasons why couples decide to establish a Florida premarital agreement or prenuptial. After all, prenups are a way to confirm how assets and inheritance issues will be handled in the event there is a break in the union. A written contract, a prenup is a legal document that is created to protect both individuals and their assets.
If you have questions about how premarital agreements work or how to set one up, connect with a seasoned Orlando estate planning attorney. Talking through your options is essential, do not sign a legal document until you completely understand the contract.
What Is a Prenup and Why Have One?
In Florida, prenups or prenuptial agreements are also referred to as premarital agreements. The contract outlines asset and spousal maintenance issues should the individuals who will soon be married divorce at a later time.
A premarital agreement could be appropriate when any of the following are true.
One or both individuals own a business with assets and debts that are to be kept separate from the marriage if the union were to end.
There are assets one or both parties need to shelter if there was a divorce.
A previous marriage or marriages have resulted in children and the person entering a new marriage wants to put aside inheritances.
There are spousal maintenance, also called alimony, concerns that one or both parties want put in place before marriage.
Property division issues need to be addressed, should one party want to keep certain properties in the event of a divorce.
If you do want to put an agreement in place, you need to work with an Orlando estate planning attorney for best results. Your lawyer can be sure your wishes are being upheld and follow Florida law. There are times when prenups are disputed, particularly if they are not drawn up properly. A person could say there was not a full disclosure of assets and debts or that the contract was not correctly finalized and signed by both people before entering the marriage.
Can I Include Children and Custody Issues?
Although some do want to include custody issues and parental concerns in a prenup, these guidelines are not always held up in a court of law. During the divorce process, the court has a responsibility to make decisions that are best for the children. So, even if child issues are outlined in a prenup, the court may go another route to ensure a child's development continues to thrive.
Do You Want to Sign a Florida Prenuptial Agreement?
If you need legal advice on what to include in a prenuptial agreement, talk to an experienced Florida estate planning attorney. A seasoned lawyer can help you get a full understanding of your finances and the assets of your soon-to-be spouse. Contact Gierach and Gierach, P.A. today to find out how our Orlando asset protection planning attorneys can best serve your needs. Our attorneys have the resources and skills needed to establish legal protections for you and your family.
https://www.gierachlaw.com/what-happens-if-you-do-not-designate-a-guardian-for-your-child-and-something-happens-to-you-both/