Single Ladies, Build An Estate Plan In 2022, If You Don't Already Have One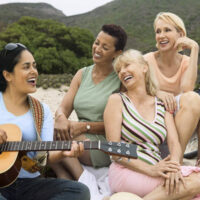 Kudos to you if you are a woman who thinks that life gets better as you get older; you will save bundles of money and untold amounts of stress by not chasing futile efforts to stay young.  If you are happily married, then you and your husband should work on your estate plan together.  For everyone else, whether you are counting down days to Divorce Monday to break the news to your husband that you are starting a new life without him, or whether you have always been single, 2022 should be the year you start working on your estate plan, if you have not done so already.  An Orlando estate planning lawyer can help you get started on your estate plan or revise your existing one.
Why Women Are at Higher Risk of Poverty in Old Age Than Men
A recent report by the New York Times presents some statistics showing that elderly women are at higher risk of poverty than men in the same age group:
Ten percent of women over age 65 live below the federal poverty line, compared to eight percent of men over age, according to data from 2020. The federal poverty line is an annual income of $12,413 for a one-person household.
Race and marital status play a role in older women's poverty risk. Unmarried Black women over age 65 had the highest rate of poverty, with 20 percent of women in this demographic group living in poverty.
Many women above age 55 who were still in the workforce were classified as "working poor," meaning that their income was $10.19 per hour or less.
The fact that women, on average, earn less than men affects their retirement. While married women in dual-income couples may be able to put a sizable percentage of their income into retirement savings, most unmarried women (and many married ones, too) have little money left over after paying for recurring expenses.  Time spent out of the workforce or working part-time while assuming a greater share of family caregiving responsibilities accounts for part of this.
Of course, you have probably heard the depressing statistics about gender-based income inequality before, and they have not stopped you from being hard-working and frugal.  This year is the perfect time to investigate how to make the most of tax incentives, maximize Social Security income, and otherwise build a retirement plan based on a realistic assessment of your current and future earnings from your job.  Whether you are newly single or perennially single, a detailed long-term plan is one of your best defenses against poverty.
Contact an Attorney for Help
Estate planning is not just for rich people or those on bad terms with their families.  An estate planning lawyer can help you develop a plan that will maximize your financial stability in retirement, even if your earnings and income are modest.  Contact Gierach and Gierach, P.A. in Orlando, Florida to discuss your case.
Source:
yahoo.com/news/why-older-women-face-greater-162859034.html