Successful Aging In Place Happens At The Community Level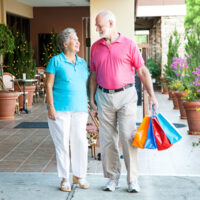 When you decide to age in place and start looking for advice about how to prepare, most of the articles you find are about home renovations to accommodate the mobility needs of seniors.  You can read all about benches for your shower, chairlifts on the stairs, and converting a room on the lower floor into a main bedroom.  While these renovations can prevent accidental injuries at home, and while they generate business for home contractors, aging in place does not take place entirely within the walls of your house.  Preventing social isolation is an important part of any plan to age in place.  You should account not only for how you will manage in your own house, but also for how you will get to the places you need to go and how easy it will be for the people in your life, be they family members or professional caregivers, to come to you.  An Orlando estate planning lawyer can help you see the big picture about your plans for aging in place.
Elements of a "Smart Town" for Seniors
Your surroundings have a big effect on your health, and the contributing factors are not limited to your home environment.  In many rural towns, seniors outnumber young people.  A study at the Iowa State University rated 99 rural towns for how well they fit the definition of a "smart town," meaning one where seniors have access to everything they need.  For example, they studied how far people would have to travel to visit doctors, as well as the proximity of supermarkets to neighborhoods where seniors lived and the number of home health aides and how far they would have to travel to reach the seniors' homes.
Smart Towns for Aging in Place Rely on Human Connections, Not Just Technology
The study determined that the biggest effect on the wellbeing of seniors in rural towns was how easily they could remain in contact with other people.  By the standards of the towns evaluated in the study, any location in Florida where you might choose to retire is genius.  In Florida, the weather is suitable for walking to the bus stop year-round, and even if you live in a small town populated mostly by seniors, home health aides in a larger town only have to drive a short distance to reach your house.
By this logic, the metropolitan areas of Florida are an ideal location for aging in place.  Despite the stereotypes about Florida being one big retirement community, Florida's population of young people is growing.  Orlando and its suburbs have no shortage of doctor's offices, home health aides, and supermarkets.
Contact Gierach and Gierach About Aging in Place
Aging in place in Central Florida is a wise decision. An estate planning lawyer can help you work out the details of your plans to age in place in the Orlando area.  Contact Gierach and Gierach, P.A. in Orlando, Florida to discuss your case.
Source:
futurity.org/small-towns-aging-in-place-2886972-2/?utm_source=rss&utm_medium=rss&utm_campaign=small-towns-aging-in-place-2886972-2