The Coronavirus Pandemic Makes the Right Estate Planning Essential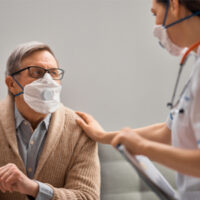 The coronavirus has thrown the entire country and globe into a tailspin, with people afraid to go to work, let their children go outside, run errands such as getting groceries, have the kids go to school, etc. Florida is no exception, where the number of positive cases of the virus has grown fivefold during the third week of March.
As a result, many now feel the need to get their estate plans in order. Below, we discuss some of the most important steps that need to be taken in terms of estate planning during this time.
Get Organized
Make sure that all of the important information about accounts, bills, passwords, providers, contact information for attorneys, accountants, advisers, and any other important professionals is organized for whomever is handling your estate, as this will help those who need to facilitate these affairs.
Business Owner Succession
The virus is hitting those who are 55 and older especially hard, which means that business owners need to meet with estate planning attorneys in order to put in place a succession plan in the event of incapacity or death.
Durable Power of Attorney
In addition, heads of households, i.e. those who pay the bills and make major financial decisions, need to make sure that there is a durable power of attorney in place in case they become ill or incapacitated. Designating a durable power of attorney allows you to ensure that you have someone designated to manage important affairs if you become ill, and this individual has access to your accounts so that they can pay your bills as well. Keep in mind, however, that because this person has access to your financial affairs, you want to make sure that this is done carefully with the help of an estate planning attorney.
Planning For Your Healthcare
You also want to make sure that you have an Advance Directive and a Healthcare Proxy in place. An Advance Directive dictates which types of medical care you do and do not want, while your Proxy is someone who is enabled to make medical decisions on your behalf, as well as discuss your wishes. This is especially important if you are not married and would like your partner to have certain rights when it comes to your health and treatment.
Update Beneficiary Forms
You also want to make sure that your beneficiaries are up-to-date for such important accounts as IRAs, 401(k) accounts, life insurance policies, etc., especially if you have been previously married and divorced and an ex could still be listed on any of these accounts. Remember that your will does not control what happens with these accounts.
Other Important Details
Your estate planning attorney will also be able to help you with other very important details that can make a difference for your loved ones and in terms of ensuring that your goals are met, for example, making sure that you do not put assets in joint names, as this can make whoever inherits those assets vulnerable if they are sued and/or subject to capital gains taxes.
Another important action people need to take in light of this virus outbreak is to list a remote contingent beneficiary. What this means is that you essentially put a plan C in place in case all of the individuals designated to receive your assets have passed away (i.e. in the event that those who you have identified to inherit have passed away, you would designate that your estate would pass to x, such as a charity). Remember that when you fail to specify a detail, your property passes based on Florida state laws on intestate succession.
Contact Our Florida Estate Planning Attorneys for Assistance
Our Orlando estate planning attorneys are working hard during this time to make sure that everything you need is in place to make you feel secure. Contact the office of Gierach and Gierach, P.A. today to find out more.
Resource:
tampabay.com/news/health/2020/03/21/floridas-ron-desantis-more-cautious-than-other-governors-on-coronavirus/
kiplinger.com/article/retirement/T021-C032-S014-coronavirus-legal-advice-get-your-estate-in-order.html
https://www.gierachlaw.com/the-most-important-estate-related-mistakes-to-avoid-when-it-comes-to-probate/