The Elder Care Apps Have Arrived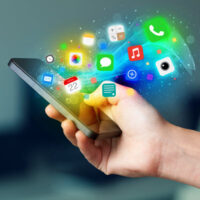 It's official.  Baby Boomers are old.  They might have tried to deny it until recently, but once the millennials let their hair go gray during the pandemic shutdown of 2020, it was time to face reality.  Ever since they were young, Baby Boomers have done things differently from how their parents did them, and aging is no different.  Most recent retirees can't see themselves playing bridge in a retirement home and getting dressed up to dine with their neighbors in its formal dining room, even if that is how their parents spent their golden years.  Meanwhile, the multigenerational household is not for everyone, even though plenty of families choose this option.  Aging in place is an appealing option, but as prices skyrocket, how will the new generation of seniors get the in-home care they need, and how can family members provide it without falling victim to burnout?  A new crop of mobile apps promises to address some aspects of this problem, but even when these become available in Florida, you still need to develop a comprehensive strategy with an Orlando estate planning lawyer.
Alice Care, Papa Pals, Mon Ami Companions, and More
The solution to caregiver burnout begins in the same place where you can find the solution to most of the problems of contemporary life, namely, in the app store of your smartphone.  Family caregivers need a respite sometimes, so they can avoid burnout, but the traditional payment model for part-time in-home care is beyond the budget of most families.  When you hire a caregiver part-time, you usually have to book their services for at least four hours per day, even if you only need their help for a fraction of that time; this is to enable the home health aide to plan their schedules and commutes, so they are not traveling an hour or more round trip just to get an hour of pay.  Some seniors who live with younger family members feel more comfortable having a professional home health aide help them bathe, even though they are comfortable depending on family for all their other needs.  (Ask yourself seriously if you would feel comfortable with your children or grandchildren helping you bathe.)
Alice Care, which recently launched in California, bills itself as an Uber for elder care.  Professional home health aides log into the app when they are available to help, and families request help when they need someone to provide care or supervision for an elderly family member for just a few hours.  The app matches families to the nearest available aide who can provide the needed services.  Papa is another app that operates similarly, but it connects seniors and their family caregivers to paid "Papa Pals" who provide social companionship rather than caregiving tasks like feeding and bathing.  The elder care software company Mon Ami has recently launched a similar service called Mon Ami Companions, except that its participants provide social companionship on a volunteer basis.
Contact Gierach and Gierach About Estate Planning for Independent Seniors and Their Burnt-Out Caregivers
An estate planning lawyer can help you plan for how to pay for just as much in-home care as you need.  Contact Gierach and Gierach, P.A. in Orlando, Florida to discuss your case.
Source:
yahoo.com/now/uber-eldercare-services-companionship-caregivers-130108990.html