What Happens to Your Life Insurance Policy If You Do Not List a Beneficiary?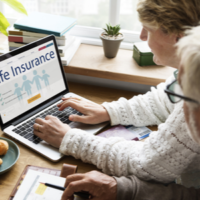 Most people who own life insurance policies never think about them, and that is the point.  You sign on the dotted line, pay a few pennies per month, and stay alive; nothing could be simpler.  You take out a life insurance policy because you plan to live a long time but you want your financially vulnerable family members to have enough money to survive if you do not make it to retirement age.  In fact, if you are old enough and financially secure enough to have started thinking about your estate plan, then life insurance is probably the farthest thing from your mind.  In some cases, though, life insurance policies have been at the center of probate disputes.  To make sure that all of your life insurance policies will reach the intended beneficiaries, contact an Orange County estate planning lawyer.
A Probate Dispute Over a Life Insurance Policy
In this case, the decedent got divorced while his children were minors.  One of the terms of the divorce was that he would maintain life insurance policies with the children as beneficiaries.  In fact, he maintained these policies for the rest of his life.  Before he married his second wife Elda, he took out another life insurance policy but did not list a beneficiary.  He also drafted a will which stated that Elda was to inherit most of his assets.  Elda later testified in probate court that the decedent had told her that he had set up his estate plan the way he had because he knew that there was a possibility that his children would give her a hard time during probate.
The decedent's son Rafael attempted to open the estate for probate as an intestate estate.  Elda then submitted the will, and the probate court admitted it.  The court named Elda as the personal representative of the estate, as specified in the will.  A major point of dispute in the administration of the estate was the decedent's life insurance policy for which he did not list a beneficiary.  The court ruled that the payout from that insurance policy should become part of the estate.  It reasoned that, when the holder of an insurance policy does not specify a beneficiary, the policyholder is the beneficiary.
As a consequence of this decision, the money from the beneficiary-less insurance policy ended up going to Elda.  Rafael objected to this, and his mother and sister submitted affidavits saying that the insurance policies were a part of the divorce settlement and that the children should be the beneficiaries.  Because Rafael filed his objection before the estate settled, the appeals court determined that it did not have jurisdiction to rule on it.
Let us Help You Today
Insurance policies are an inexpensive way to build financial security, and an Orlando estate planning lawyer can help you make wise decisions about life insurance and other aspects of your estate plan.  Contact Gierach and Gierach, P.A. for a consultation.
Resource:
scholar.google.com/scholar_case?case=17510667327047009177&q=probate+rafael&hl=en&as_sdt=4,10&as_ylo=2011&as_yhi=2021
https://www.gierachlaw.com/life-estate-when-you-can-stay-in-your-deceased-spouses-house-for-the-rest-of-your-life-but-you-do-not-inherit-the-house/