Your Estate Plan Is Likely Out of Date Due to Our "Digitized" World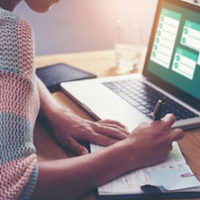 As estate planning attorneys here in Florida, one of our regular tasks is to update estate plans with our clients, because not only do life circumstances changing all the time, but the law is also changing as well, warranting important updates.
In addition, more and more is being done online, especially when it comes to conducting business transactions and storing sensitive, financial information and assets. The world has been "digitized," and this presents all new challenges for estate planning and making sure your estate plan keeps up with technological advances.
What Are Digital Assets, And Why Are They Important?
It can be helpful to do a basic rundown of what digital assets are, and why they are important. Digital assets are not your computer, your iPhone, etc. but rather, blog posts, any cryptocurrency, credit card reward programs, your email, Facebook, online photos, software programs, websites, etc. They are important for a number of reasons, including the fact that:
There is usually real monetary value associated with them;
They usually hold some sentimental value; and
If neglected after death, they pose a huge risk in terms of hacking abuse or theft, especially when it comes to identity theft and fraud.
The Challenge of Digital Assets
Some challenges associated with digital assets include the following:
Digital assets can sometimes be difficult to locate online;
Accessing digital assets can be challenging because everything is usually password-protected; and
Determining ownership of online assets can sometimes be the trickiest task of all, as ownership rights over these types of assets is less defined in the law than traditional assets.
For example, let's say that one family member handles all of the family's accounts, including paying all the bills, managing finances, etc. online, and that person passes away without leaving instructions about those accounts, how to access them, etc. In these circumstances, it can be extremely difficult for the surviving spouse to locate all of this and make sure services aren't disrupted and their information isn't stolen off of these websites in order to open up fraudulent credit cards, etc. Sadly, this happens all the time because of a lack of awareness of digital assets and the need to actively manage them as part of your estate plan before you pass. Traditional estate planning techniques are simply not geared towards adequately covering digital assets.
Contact Our Florida Estate Planning Attorneys to Make Sure You Are Covered
The estate planning attorneys of Gierach and Gierach, P.A. are dedicated to providing the very best to our Florida clients when it comes to ensuring that everything is taken care of with respect to their digital assets. Contact us today for a free consultation to find out more about our services.
Resource:
forbes.com/sites/jamiehopkins/2019/02/01/is-your-estate-plan-out-of-date-probably-and-facebook-is-likely-to-blame/#77502f62f48d
https://www.gierachlaw.com/do-wills-need-to-be-probated-in-estate-planning/