Earth to Baby Boomer Parents: Just Say "No" to Freeloading Adultolescents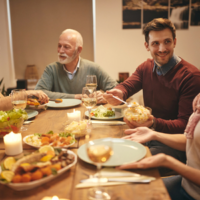 It's no secret that your children's generation faces financial struggles that were much easier to avoid when you were young than they are today.  Well-paying jobs that didn't require a university degree were easier to find, and college education was much less expensive.  Meanwhile, even necessities like housing and groceries have gone up in price.  It is not because of lack of responsibility that your sons and daughters still need financial help from their parents, even if they work full-time.  Money can be a fraught subject between parents and their grown children, just like it can between parents.  When your children ask you for money, it isn't just about money; it's also about love, responsibility, independence, and so many other emotional minefields.  In the worst cases, your kids' requests for financial help can be a no-win situation, where you will feel terrible whether you say "yes" or "no."  You can avoid giving your kids more than you can afford to give them, and you can also avoid inviting guilt trips if you say "no."  Your secret weapon is your estate plan, and the person to bestow that secret weapon on you is your Orange County estate planning lawyer.
Saying "No Is Easier When You Have a Detailed Estate Plan
When your children were toddlers, pediatricians and parenting books told you to be proactive instead of reactive.  This advice is also applicable to managing your finances in retirement and giving your adult children as much or as little financial support as you feel comfortable giving them.  Work with an estate planning lawyer to create a retirement budget.  Some retirees might set aside a certain amount to help a son or daughter who needs help.  Perhaps your daughter just finished medical residency and is working, but she has a toddler, and her student loan payments and childcare expenses will be burdensome for the next few years.
If your kids tend to ask you for money as expenses arise, only give them money out of the disposable income part of your budget.  Sacrificing your needs for your children's financial emergencies only creates financial stress for everyone.  How much of your wants you are willing to sacrifice is an individual choice, but the more you plan in advance, the easier it is to come up with a script before your kids turn on the waterworks.  Here are some examples:
Aunt Cathy and I have been planning on going on a cruise after the pandemic, and now we are both vaccinated and looking at cruises for this summer. Therefore, I can only afford to give you $3,000.
The annual gift tax exclusion is $15,000. If I give you more than that now, we will both have to pay taxes on it.  15 grand should help with your down payment.  Next year, we can revisit the situation, and I would be open to giving you up to $15,000 then to pay down the mortgage.
Notice that these responses are completely free of judgment about your children's financial choices.  They are all about how much you can afford after carefully considering your budget.
Contact Us Today for Help
There is no right or wrong answer about how much money to give your grown children, but an Orlando estate planning lawyer can help you find the solution that works for you.  Contact Gierach and Gierach, P.A. for help today.
Resource:
marketwatch.com/story/how-to-say-no-to-your-adult-childrens-demands-for-money-11615325071
https://www.gierachlaw.com/home-mortgages-and-florida-estate-law/