Estate Planning for The "Modern," Non-Traditional Family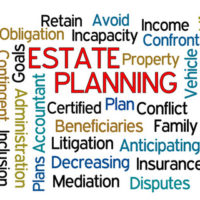 Given that only approximately 35 percent of today's families are "traditional," making the nontraditional family the "norm" when it comes to estate planning, there are a number of things that you may want to do differently when it comes to approaching estate planning if you do not have a traditional family. Below, we describe some of these methods and options in greater detail:
Approaching Beneficiaries Differently
First, know if and when you will need to avoid historical planning patterns, presumptions, and traditional documents. For example, if you have any adopted or non-marital children who could be unintentionally excluded from your estate plan, are in a second or later marriage, have children from prior marriages, adopted children, children born from artificial reproductive technologies, etc.,you are going to want to consider a number of nuances. Given how many families today are blended and include remarried, or recoupled individuals, and perhaps both biological and stepchildren, it is important to take very careful steps in making these plans for inheritance purposes. Unintended consequences can occur given that there are very specific legal definitions for descendants or "issues" that must be considered. For a number of families, existing definitions that are codified in the law or defaulted to do not encompass everyone that you want treated as beneficiaries, for example.
Planning For Unmarried Couples
Statistically, there has been significant growth in the number of family units that are comprised of unmarried individuals. When it comes to attorneys preparing agreements that govern what happens if either of these individuals dies, it is critically important to work with someone who has experience doing estate planning for these specific circumstances. For example, there are a number of risks involved if one partner becomes disabled or Ill and specific medical and or financial issues come up.
Addressing Gender Identity Issues
In addition, for any potential family members who are transgender, traditional legal documents may incorrectly refer to that person and even cause them to lose their status as a beneficiary simply due to pronoun issues.
Get Specific on Logistics
In sum, your attorney should set up plans based on your specific family and what works best for them; for example, are there particular communication requirements that should be planned for, how should family members share sensitive information, how should family meetings be handled, how they should meet with professional advisors. etc.?
Building in Flexibility
Some tools that can help build in flexibility include:
Powers of appointment, which allow certain people to direct or appoint assets;
Trust protectors, which provide a certain amount of authority over the trustee and administration of the trust;
Naming an institutional trustee and providing them with discretionary distribution authority;
Decanting provisions that allow the trustee to merge one trust into a new trust that has different provisions;
Division and merger provisions that allow for trusts to be combined;
Holding personal use assets; and
Providing one individual with the ability to add beneficiaries.
Contact Our Florida Estate Planning Attorneys to Find Out More
For any and all estate planning needs, contact our experienced Orlando estate planning attorneys at the office of Gierach and Gierach, P.A. today to find out how we can help ensure that your estate plan is particular to the needs of you and your family.
Resource:
forbes.com/sites/martinshenkman/2019/10/01/estate-planning-for-the-modern-family-what-to-do-when-youre-not-the-cleavers/#56ef5fa1464d
https://www.gierachlaw.com/should-i-consider-involving-a-mediator-in-my-estate-planning/